Bikini Classroom
CD ROM Training
Learn how to use your computer the fast and fun way!

Beginner
Bikini Classroom For Windows XP is a must-have for those who wish to learn the basic operation of Windows XP operating system.
Some of the things you will learn about:
The Mouse
Customizing Your Desktop

The Taskbar

Working With Windows

The Start Menu

Setting Up User Accounts

Saving Files

File Folders

Setting Up Screensavers

Adding Programs To Your Quick Launch Toolbar

Shortcuts

Adding Passwords To User Accounts

Using WordPad

Windows Utility Programs

Changing The Background

Moving The Taskbar To Other Parts Of The Desktop

And Much More !
Intermediate
Bikini Classroom Tips & Tricks For Windows XP - This latest edition features visual instruction for over 100 Tips & Tricks for Windows XP. We'll cover such topics as: Compressing Files, Windows Logo Key Shortcuts, Creating Custom Send To Locations, Erasing Internet History, Securing Documents From Other Users, Creating Custom Keyboard Shortcuts For Launching Your Favorite Programs, Instant Shortcuts & Instant Copies, plus many more Tips & Tricks!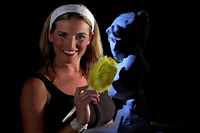 SEO/Marketing by seo los angeles