Bikini Classroom
CD ROM Training
Learn how to use your computer the fast and fun way!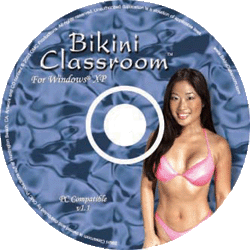 Welcome to the official Bikini Classroom website!

Bikini Classroom combines education and entertainment in affordable, easy-to-use video tutorials that can be downloaded straight to your computer.
Our instructional videos feature lessons in the operation of Microsoft's Windows XP operating system. Both editions are now available at a limited time price of only $27!
Please take a moment to review our website. You will find a detailed breakdown on our lessons along with sample video clips.
Bikini Classroom makes a great gift!
Only $10 for over 3 hours training!

Immediate download!
For the Beginner User - 122 minutes
Do you know someone who needs to learn how to operate their computer? Bikini Classroom for Windows XP will make a great gift for them. To learn more about the topics covered in this edition, click here.

For the Intermediate User - 86 minutes
If you're familiar with Windows XP, then perhaps our newest product is for you: Bikini Classroom's Tips & Tricks for Windows XP. This video-tutorial will visually teach you over 100 time-saving techniques on how to get the most from your Windows XP operating system. To see a few images of our Intermediate level instructors, click here.

This product is listed on the ClickBank Market. Affiliates Click Here!
| | | |
| --- | --- | --- |
| | Made in the U.S.A. | |
SEO/Marketing by seo los angeles